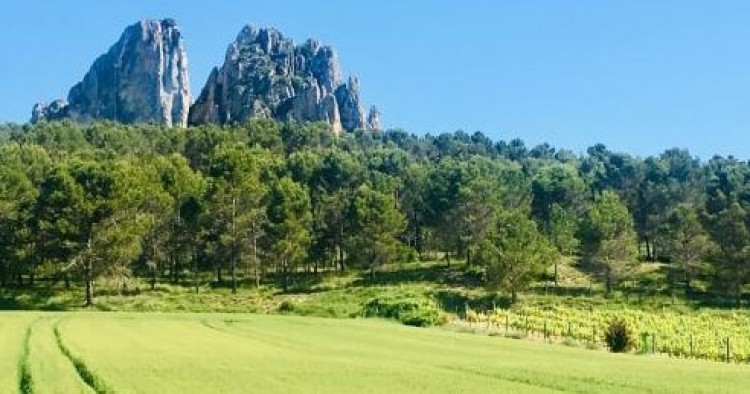 The Valleys route
Beautiful route that runs through the northern part of the region, between the Obarenes Mountains and the River Tirón. The route begins in the Plaza de la Paz, in the historic center of Haro, strolls through the city to go north after crossing the bridge over the River Tirón. It runs along a paved road towards San Felices, pay attention to take the track of land in the "Cuervo". From here we ride along a dirt track, parcel roads that are used for field work. The road goes up and down, comes and goes, between vineyards, cereal fields, wild areas and some pine groves. Attention to the indications of places of interest (Chozo and Lagar Rupestre), which give us an idea of the antiquity of vine cultivation in this area. A few kilometers later we will reach to an intersection that indicates the possibility, if we have time and strength, to extend the route (4 km round trip) to the right to reach the fields of San Felices de Bilibio, a place declared the most beautiful corner of Spain in 2014, and the place where the famous Battle of Wine is held every year.
It is worth walking up to the Ermita del Santo to be amazed by breathtaking views of the Ebro valley and the city of Haro in the background. Once you get back to the route, we head west, and the track runs smoothly between the foothills of the Obarenes mountains and the vineyards, surrounds Villalba de Rioja and continues up and down between vineyards, until it connects to a wider and more comfortable track, a place Ideal to take a breath and admire again the views of the vast fields of vines gliding smoothly to the horizon. We continue riding along this wide track until we reach the town of Sajazarra, we can rest a bit, refresh ourselves and stroll through the gardens that surround the castle. Special attention to the point where the route follows, which is right next to the entrance arch of the town. We change the orientation, we ride east to return to Haro, the path takes us little by little towards the River Tirón, always surrounded by vineyards.
When we get to the river, the track is a little more complicated, due to the potholes and stones that force us to go slower, but it allows us to enjoy the sounds of the water and the shade of the trees on the riverbank. When we get back to Haro, we once again join the road along which we started the route and after going up the last slope of our trip, we again reach the Plaza de la Paz, where we can have a well-deserved aperitif in any of its terraces. Good route!
Note: respect the environment and the vineyards. Some of the paths are private.
Points of interest